Caricatures - Vignettes - Book Covers - Illustrations
Click on the image grids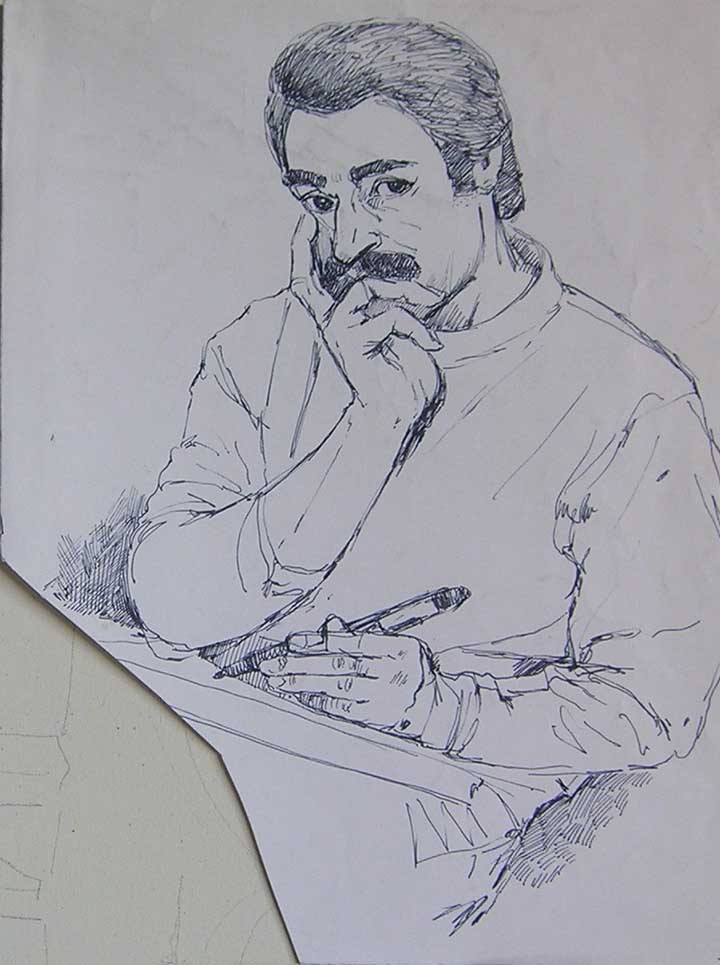 Aziz Karim
PORTRAITS IN OIL - PORTRAIT FROM PHOTO - CRAYON PORTRAITS - PASTEL PORTRAIT - PENCIL DRAWN - OIL PAINTING ON CANVAS - CARICATURES - COVER - CALLIGRAPHY - ILLUSTRATIONS
Aziz Karim realize portraits and illustration characterized by definite traits carefully detailed and geometrically defined in space; the scenery he comes to realize is still, enchanted, almost magic.
His works and portraits are characterized by a realistic representation of the world and of daily life through suspicious, attoned, and almost hallucinated visions of it.
Follow me on Social
Click here for the artist's CV
Aziz Karim was born in 1948, in Nassirya, south Iraq.
In 1971 He got a diploma at Baghdad Institute of fine Arts.
In 1977 He got a diploma at Rome Academy of fine Arts.
He lives and works in Rome since 1973
Between 1973 and 1999 he took part in many collective art-exhibitions in Rome, Gubbio, Florence, Naples, Calcata and Forano. He also was present at art-exhibitions in South of Yemen and in the city of Damascus, Syria.

Exhibitions
1977- Galleria AEFFE 66 - Rome
1978- Centro delle Arti Visive - Florence
1979- Palazzo Comunale - Gubbio
1985- Galleria Leonardo da Vinci - Rome
1990- Studio dell'artista iracheno Jaber- Rome
1999- Studio dell'artista iracheno Jaber- Rome
2002- Associazione Culturale (Michele Coiro) - Rome
2002- Galleria Interculturale Permanente di Rome
2006- Associazione Studio l'Orologio - Rome
2010- Associazione Studio l'Orologio - Rome
2012- Associazione Studio l'Orologio - Rome
2014- Galleria Talent Art - Rome

Video Works
Shop online

Paintings on commission - Portraits in oil - Portrait from photo